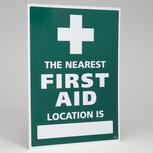 The key points when applying a bandage are:
Make sure the person is comfortable and tell them what you're doing.
Work from the side of the injury so you don't have to lean across their body.
Keep the injured part of the body supported in the position it'll be in when the bandage is on.
Use the right size bandage – different parts of the body need different widths of bandage.
Avoid covering fingers or toes when bandaging a limb so you can easily check the circulation.
Apply the bandage firmly, but not tightly, and secure the end by folding it over and tying a knot in the end. You can also use a safety pin, tape or a bandage clip.
As soon as the bandage is on, ask if it feels too tight and check the circulation by pressing on a fingernail or a piece of skin until it turns pale. If the colour doesn't return straight away, the bandage may be too tight, so you should loosen it. Limbs can swell up after an injury, so check the circulation every 10 minutes after you've put the bandage on.
Read more »